Authoring Tool Finder
Find the Right Authoring Tool, Whatever Your Requirement.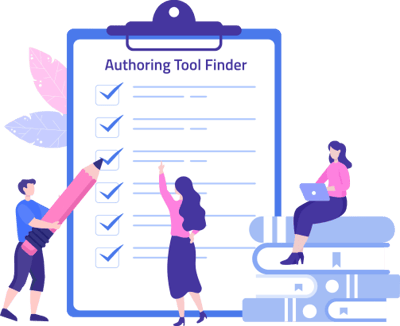 Selection of an authoring tool based on your requirements can be a tiring process. Well, not anymore!
With so many tasks in your hand, selecting the authoring tool that will be ideal for you, and takes care of your requirements, is a time taking process. It can be tricky as all authoring tools offer some or the other benefit. We understand you and hence we put together a tool that will help you make that choice.
We know that a lot depends on the authoring tool when it comes to developing courses. So, making the mistake of choosing the wrong authoring tool can affect the entire learning process. Worry not! our tool 'Authoring Tool Finder' will help you select the best authoring tool for your customized needs. All you need to do is fill in your requirements and Authoring Tool Finder will help you find your ideal authoring tool hassle-free.
If you use Authoring Tool Finder, you will:
Save yourself the time of the entire process of choosing the authoring tool.
Experience how easy to use our tool is.
Boost your productivity.
Make course creation more effective.
Never go back to the old method of choosing the authoring tool.
What you'll get?
Get this tool and find out which authoring tool will work best for you. A sneak peek into what our tool offers.
It helps you save time and cost invested in the entire process.
This tool is easy to use.
Course creation is smoother and decision-make more effortless.
It will help you choose the best authoring tools according to your needs and requirements.
Adapt this new way of finding the right authoring tool and you will never go back to your old method.
Say yes to hassle-free decision-making! Find which authoring tool works best for you.