Are You Ready to Level Up Your Videos Using Synthesia?
An easy-to-follow video tutorial to create visually appealing videos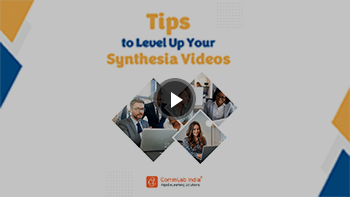 Explore the Video Now!
Get a sneak peek at the features that will enhance the videos created using Synthesia:
Apply Animations to Objects
Apply Animations to Icons
Facilitate Audio Curation
Also, get a free user guide alongside the video tutorial for a detailed explanation to ace your learning.
Create Interactive Synthesia Videos Using AI Avatars
Avatars or characters breathe life into dry subjects and facilitate learner interaction. But if not done right, they can be a mess. If you are struggling to get things right and finding it difficult to use the tool effectively, follow these simple tips to enhance the look of your videos.
Make your videos stand out! You can now:
Add extra oomph to the animations to kick things up a notch
Say goodbye to static icons. You can animate them and even tweak their colors
Get perfect AI-generated voiceovers by using simple punctuation tricks
ACCESS THE VIDEO TUTORIAL NOW